Baby Doge Coin Climbs 120% in 7 Days: How High Can it Go in February?
Meme coins like Dogecoin, Shiba Inu, and Baby Doge have caught the interest of cryptocurrency investors. Although Dogecoin was the catalyst for the first meme coin movement, many others soon followed.
Baby Doge Coin enjoyed its share of popularity during the 2021 bull run. However, 2022 proved to be one of the worst years for all coins, and meme coins were no exception. Even though Dogecoin and Shiba Inu are reigning in the meme coin realm, Baby Doge is trying to prove that it is right behind them. This is evident in its recent price hike.
Read more: 3AC Liquidators Ask Judge to Compel Co-founder's Cooperation
According to CoinGecko data, the Baby Doge coin has risen to the 89th position in terms of global market cap.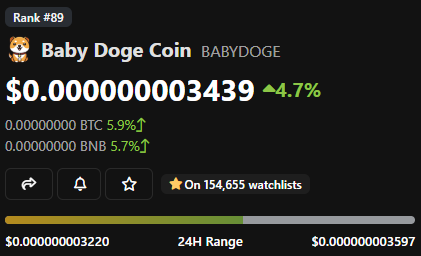 How high can BabyDoge go in February?
Even though most of the coins, including Bitcoin, put on a green rally with double-digit gains in January, BabyDoge was bracing itself for an even better rally. According to the data from CoinGecko, BabyDoge is up by 120% over the last seven days. The data also reveals that the meme coin is up by 188% over the last 14 days and a whopping 255.6% over the last 30 days.

BabyDoge is trading at $0.000000003439 during press time, with a 4.7% spike in value over the last 24 hours. However, it is unclear whether this is a short rally or whether the coin will continue to rise in February.
Read more: Shiba Inu: Shibarium Set to Power Freelance Marketplace
According to Cryptopredictions, the price of BabyDoge is predicted to touch a high of $0.000000004419571 and a minimum of $0.000000003005085. This can vary greatly depending on market sentiment if the market turns bearish. However, BabyDoge is still 82% down from its all-time high of $0.00000002 on July 4, 2021.