Bitcoin Investors Have Endured More Losses Than Profits Since 2015
The cryptocurrency industry has witnessed tremendous growth over the last couple of years. Even though the world's largest cryptocurrency Bitcoin [BTC] was started out for the average joe, institutional investors seemed to be making the most out of it. This is reflected in profits as well. A recent report by the Bank for International Settlements highlights how retail investor returns on Bitcoin took a major hit over the last 7 years.
The BIS report noted that from 2015 to December 2022, the median retail investor lost nearly half of their initial investment. This is quite surprising considering the fact that Bitcoin witnessed several rallies during this period. The report read,
"However, most global investors have probably lost money on their crypto investments. These losses could be exacerbated by the fact that larger, more sophisticated investors tended to sell their coins right before steep price declines, while smaller investors were still buying,"
The study relied on downloads and cryptocurrency exchange activities from August 2015 to mid-December 2022 across 95 nations. During this period, Bitcoin hit an all-time high of nearly $69,000, and the daily active users across the globe surged from 100,000 in August 2015 to over 30 million in November 2021. This further signifies how there has been a significant increase in retail cryptocurrency trading.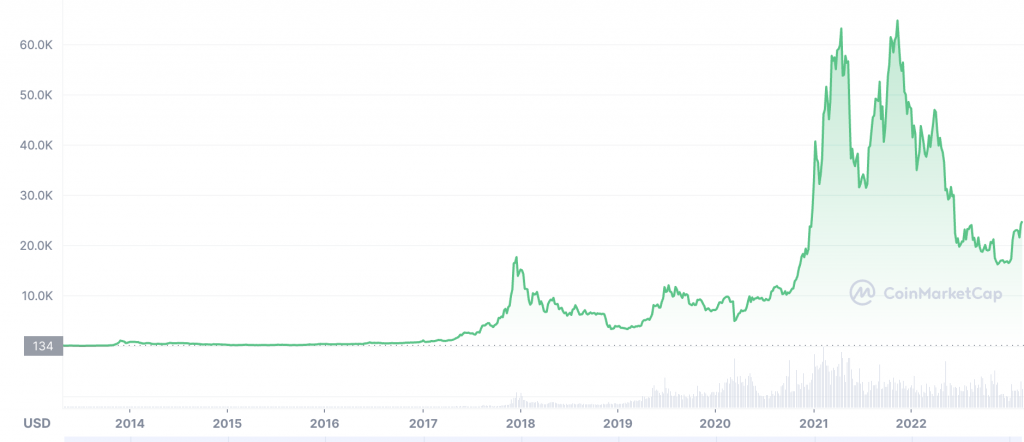 As seen in the above chart, Bitcoin recorded rather erratic growth since 2015. The year 2022 was quite dull for the king coin, which could have caused this decrease in retail investors' profits.
Is Bitcoin an ineffective store of value asset?
Billionaire Ray Dalio recently appeared on William Green's "We Study Billionaires." During the interview, Dalio highlighted how blockchain was an exceptional technology. However, Bitcoin or cryptocurrencies, in general, were not an ideal investment option.
Bitcoin has frequently been referred to be a store of value asset. But Dalio pointed out that cryptocurrencies don't mimic anything, therefore he called them a feeble store of wealth.
The renowned investor pointed out that digital assets were based on technology. However, he thinks that the excitement around them is out of proportion to their actual worth.