ChatGPT-Creator OpenAI Hires Around 100 Ex-Google and Meta Employees
OpenAI grabbed global attention as its creation, ChatGPT, created commotion in the market. With the expertise of several engineers and developers, OpenAI gave life to ChatGPT, which has emerged as one of the most widely-used and advanced language models globally.
Also read: Dogecoin Price Prediction for March 2023
Now, according to the latest data, it has come to light that OpenAI has hired numerous former employees of Meta and Google to create the AI bot.
OpenAI nearly hired around 100 employees from Google and Meta combined
The latest data from LeadGenius and Punks & Pinstripes reveals that OpenAI currently has 59 ex-employees from Google and 34 from Meta. Over 200 employees also hail from Google's parent company, Alphabet. The data also reveals that the employee pool consists of former Apple and Amazon staff.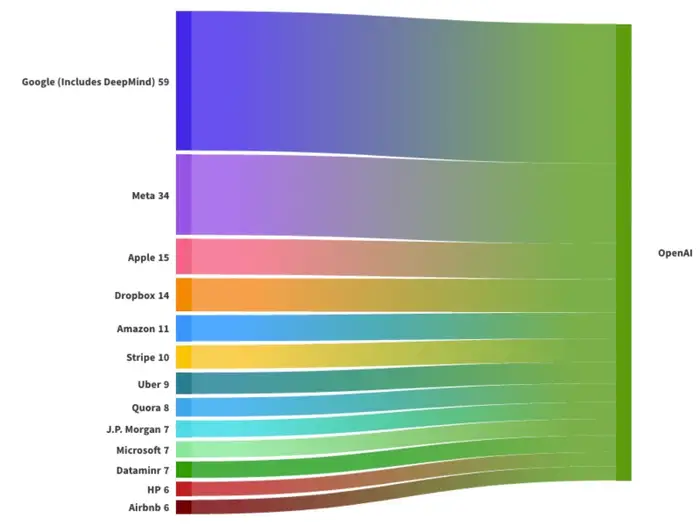 OpenAI's executive team is mostly comprised of former employees from Google, Meta, Apple, Dropbox, etc.
Punks & Pinstripes member Rick Kreifeldt told Insider that:
"The team is largely composed of people who spent a lot of time in large tech companies who have now left." "This is a stark difference from when Mark Zuckerberg was building Facebook from his Harvard dorm room."
OpenAI's ChatGPT has emerged as one of the fastest-growing consumer apps in history. Artificial intelligence has also been creating commotion in the cryptocurrency realm, with major AI coins displaying triple-digit gains in the past few weeks.