Ethereum Drops Below $1,500 Following SEC's Scrutiny
The whole cryptocurrency market, including Bitcoin and Ethereum, reacted to the recent drama of the SEC and its scrutiny of cryptocurrency staking in the US.
Kraken reportedly had to stop operating its cryptocurrency staking operations as a result of the SEC's accusations. Additionally, Kraken was ordered to pay $30 million in settlement costs.
Read more: Will Elon Musk- Manchester United Acquisition Become a Reality?
The SEC claims that the exchange's staking program, through which investors can earn a yield, was not permitted. Any of these exchanges, in Gensler's opinion, can quickly register by filling out a form on the SEC website. Following the SEC drama, Ethereum's price dropped by around 10% due to the series of events.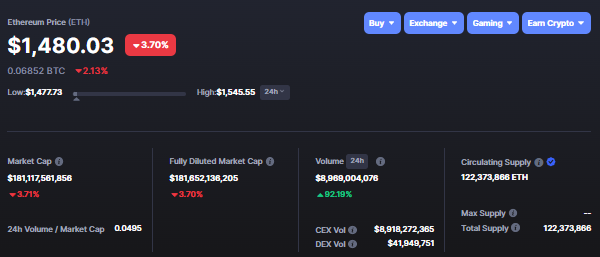 Ethereum drops below $1,500
The cryptocurrency market reacted negatively to the SEC's announcement, as the market started trading in the red with single-digit losses. Ethereum also took a hit, dropping from $1,545 to a low of $1,477.
ETH is trading at $1,486 at press time, with a 3.27% drop in value over the last 24 hours. The trading volume has also spiked by 93.34% during the last 24 hours.
Read more: Shiba Inu Profitability Plummets Alongside Burn Rate
Since the Ripple v. SEC case, the SEC has been keeping an eye on cryptocurrency businesses. The scrutiny has greatly increased since FTX's demise. In a recent blog post, Coinbase added that its staking program is not a security.