Robinhood May Buyback Sam-Bankman Fried's $578M Stake
After the markets closed on Wednesday, Robinhood released its fourth-quarter financial results. On the back of the income surge, the American FinServ company reported higher fourth-quarter revenue.
Robinhood's net interest revenue soared 165% to $167 million in the last quarter of 2022. Nevertheless, with retail traders being hesitant amid volatile conditions, transaction-based revenue dropped 30% in the quarter. Cryptocurrency-specific numbers noted a 24% decline to $39 million in the same period.
Alongside, the net loss in Q4 2022 narrowed to 19 cents per share. For context, the same stood at an inflated 49 cents per share in 2022. In all, the company reported a revenue of $380 million in the said three-month period when compared to $363 million a year earlier.
During the after-market trading hours, Robinhood shares registered a ~5% incline and were trading at $10.47.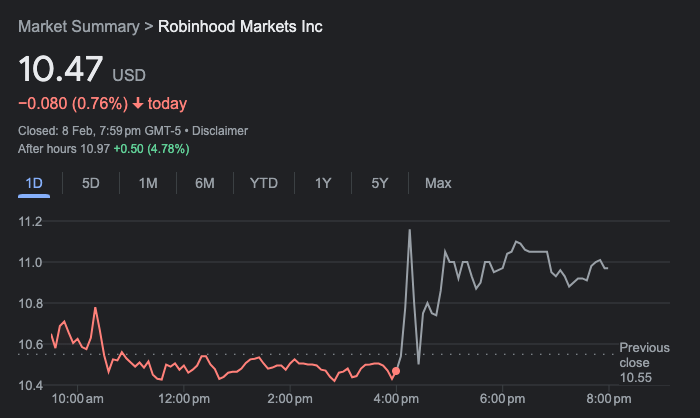 Also Read – FTX: Signature Bank Charged in Lawsuit, SBF Permitted to Contact Some Employees
Robinhood to proceed with share repurchase
Leaving aside the company's financial health, another key revelation was highlighted in the report. Robinhood's Board of Directors green-lit repurchasing its shares that SBF bought in May last year. Chief Financial Officer Jason Warnick said,
"Our Board authorized us to pursue purchasing most or all of our shares that Emergent Fidelity Technologies bought in May 2022."
Emergent Fidelity Technologies is a firm co-founded by FTX's Sam Bankman-Fried and former executive Gary Wang. The company filed for Chapter 11 bankruptcy protection last week. Warnick added,
"We're prioritizing to make sure we get these shares free and clear of any claims."
The executive further asserted that the proposed share purchase brought to light the "confidence" that the Board of Directors and management team had in their business.
While Emergent was the company that held the Robinhood shares, Bankman-Fried has time and again contended that he should retain control of the shares to cover up his legal fees. That said, federal officials seized control of the assets last month.
Alongside, according to the details from recent court filings, FTX paid $20.3 million in consulting and legal fees to the lawyers during the initial months of its bankruptcy.
Read More: Sam Bankman-Fried's FTX Paid $20.3M to Lawyers During Initial Bankruptcy Months