Shiba Inu: SHIB Bags a Listing on This Japanese Crypto Exchange
Shiba Inu has earned its position in the meme coin ecosystem. From the perspective of mere memes and meme coins, including Dogecoin and Shiba Inu, both have come a long way.
Particularly, SHIB has emerged to be prominent in terms of partnerships and global listings. With numerous partnerships and listings, Shiba Inu have become globally accessible to users.
Also read: Bank of America Expects Fed to Raise Interest Rate to 6%
Now, according to the latest details from the Japanese exchange OKCoinJapan, it has been revealed that the exchange has listed Shiba Inu for Japanese users. The exchange mentioned that users who want to trade SHIB should initially update the app.
Shiba Inu burn rate plummets
The burn rate increased by over 3,000% yesterday, with over 80 million SHIB burned, and has now reversed course. According to the latest details from Shibburn, the burn rate has dropped by 90.89% in the last 24 hours.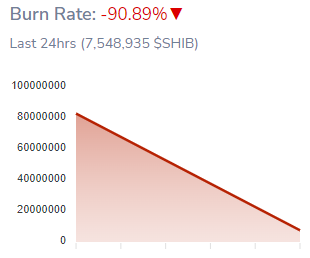 The last 24 hours only witnessed the burning of 7.5 million SHIB. However, this is not a new scenario for the burn rate, which fluctuates almost every day. On certain days, the burn rate skyrockets, and on other days it drops considerably.
Also read: MyAlgo Exploited for $9.6 Million, 25 Algorand Wallets Affected
However, SHIB's fluctuating burn rate is expected to settle and gather pace after the launch of the much-awaited Shibarium.