Solana SOL Price Prediction: Mid-February 2023
Since its launch in April 2019, Solana has made significant progress in the DeFi, NFT, and Web3 markets. There are hundreds of active projects in Solana right now, and more are on the way.
Solana's main selling point is "Low cost, forever," according to its website. The network is competing head-to-head with a number of blockchains, including Ethereum.
Read more: Ethereum Drops Below $1,500 Following SEC's Scrutiny
Solana is trading at $20.25, with a 6.47% drop in value over the last 24 hours. With the whole cryptocurrency market trading in the red, here is our price prediction for Solana for mid-February 2023.

Solana price prediction for mid-February 2023
Cryptocurrency experts at Changelly have predicted the price of SOL for February 2023. According to the analysts, SOL is forecast to reach a minimum of $19.56 and a maximum of $22.01. The average price of SOL is expected to be $21.40.
Read more: Shiba Inu Profitability Plummets Alongside Burn Rate
SOL's 24-hour trading volume has spiked by 139%, according to CoinMarketCap data. Nevertheless, SOL is down by 92% from its all-time high of $260 on November 6, 2021.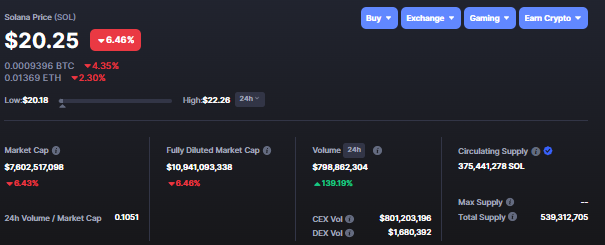 However, the expected price can vary greatly depending on the overall market sentiment and other factors. If the SEC takes a step forward to tighten its measures, it could gravely affect the price and performance of Solana.
Read more: Will Elon Musk- Manchester United Acquisition Become a Reality?