US Housing Market Value Endures Largest Drop Since 2008
2022 witnessed widespread market corrections for different asset classes. This included the US housing market, and at press time, its market value had suffered a major decline. According to a recent report, the value of the US housing market as a whole fell by 4.9% in the second half of 2022. The market's worth dropped by $2.3 trillion after rising to a peak of $47.7 trillion in June.
Redfin, a real estate company, mentioned that the current drop is the biggest decline since the 2008 housing crisis. From June 2022 to December 2022, the collective property value fell by 5.8%.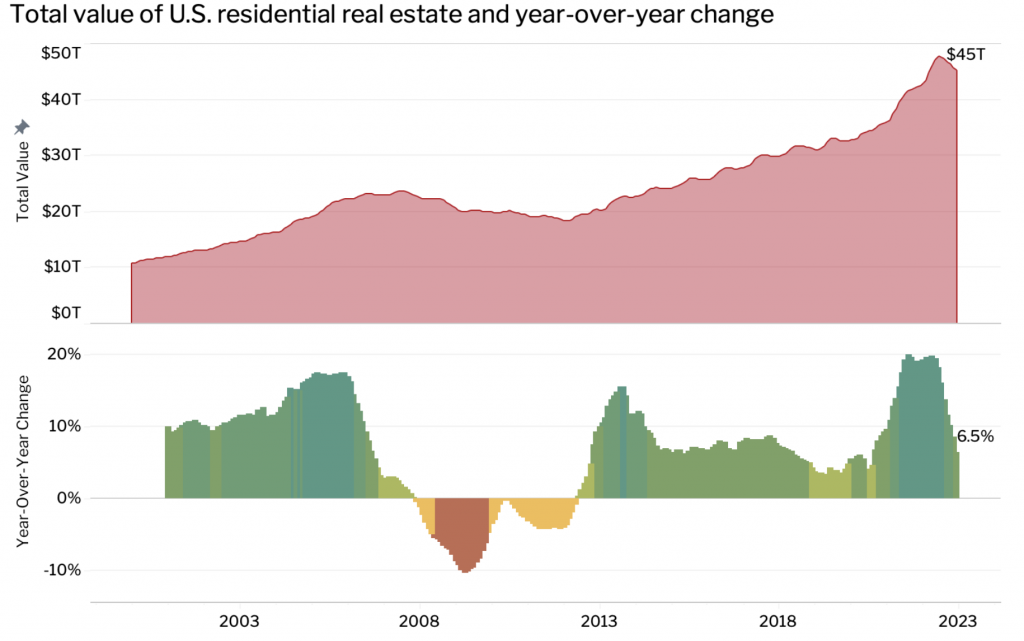 However, it should be noted that home prices were not declining. According to data, the value of American real estate was 6.5% higher in December 2022 than the previous year. This surge was linked to the pandemic. Noting how the value of the market is nearly $13 trillion higher than in February 2020, Redfin economics research lead Chen Zhao said,
"The housing market has shed some of its value, but most homeowners will still reap big rewards from the pandemic housing boom."
However, record-high costs faced homebuyers throughout the nation. These buyers are struggling at the moment, as mortgage rates doubled last year. The median US house sale price dropped from a record of $433,133 in May to $383,249 last month as a result of the weakening of competitiveness in the US housing market.
Did Florida keep the US housing market afloat?
On the contrary, Florida's home market was booming. Miami's housing market value increased to $472 billion in July 2022. In December 2022, expensive areas like San Francisco saw a 6.7% drop from the previous year. The likes of New York, Oakland, Seattle, and San Jose followed a similar trend.
Florida, labeled the "pandemic boomtown," recorded a 20% year-over-year increase in December. The state alone accounted for $468.5 billion in December. Along with Florida, homeowners in North Port-Sarasota, Knoxville, Tennessee, and Charleston, South Carolina, pocketed 17% yearly gains in 2022.