$1 Billion Worth of Bitcoin Transferred in Largest BTC Transaction This Year
The cryptocurrency industry has been witnessing a lot of volatility lately. As uncertainty looms over the banking system, the Bitcoin [BTC] led market was seen thriving. Now, whales were seen making big movements. Recently, a whale transferred a total of $1 billion worth of Bitcoin to another wallet address, making it the largest BTC transaction this year. According to Santiment, this significant amount of BTC was sent to the address 3M219KR5vEneNb47ewrPfWyb5jQ2DjxRP6.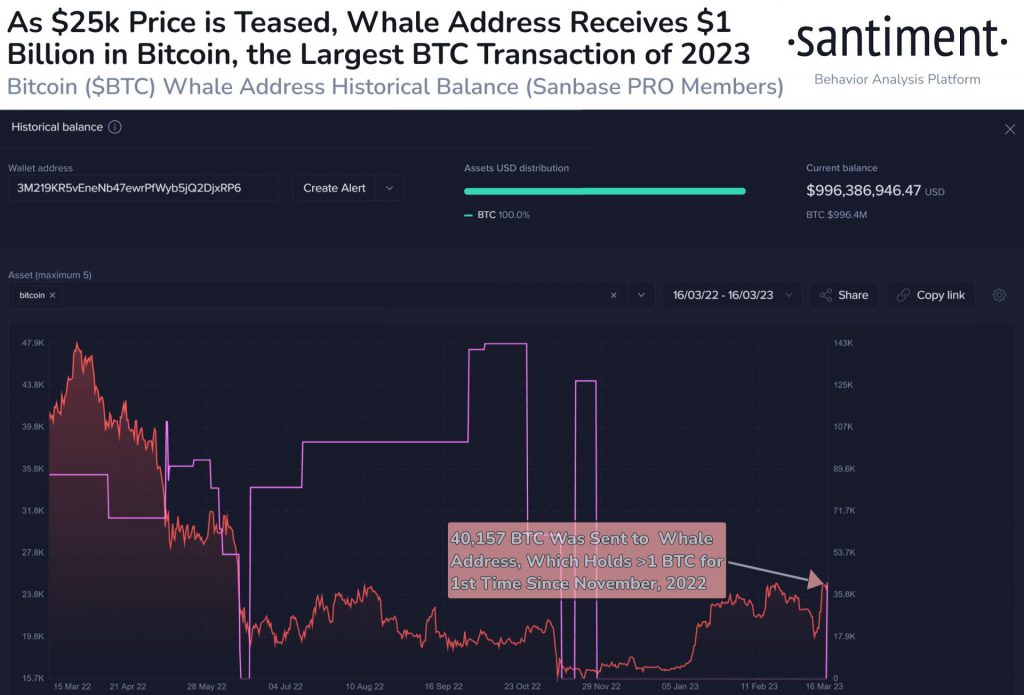 While touting this as the largest BTC on-chain transaction of the year, the network further wrote,
"The address held a high of 143,310 BTC in October, was emptied out in November, and is now back to 40,141 BTC."
There have been several transactions of this magnitude over the last couple of years. However, the largest Bitcoin trade occurred back on April 10, 2020. A whopping 161,500 BTC worth $1.1 billion was moved from a wallet. The latest transaction is significant and has certainly entered the list of BTC's largest trades.
Bitcoin shatters prominent resistance level
At press time, Bitcoin, the world's largest cryptocurrency was trading for $25,799.15 with a 5.30% daily rise. Additionally, the asset even went up to a high of $25,943.38, earlier today.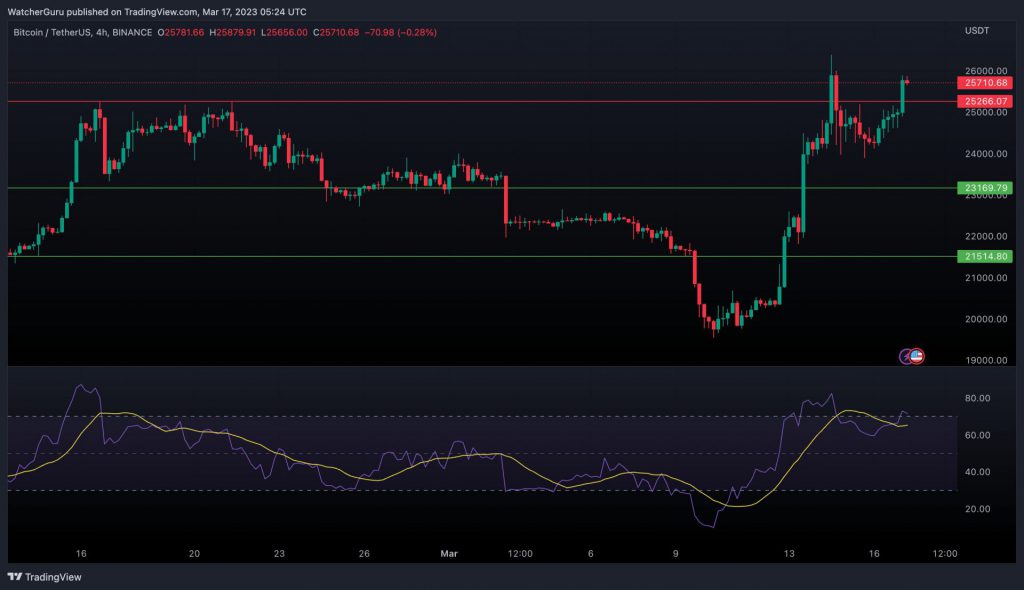 As seen in the chart, Bitcoin broke past a prominent level of resistance at $25,266. This push most likely came from the buying spree that is currently in the market. The Relative Strength Index [RSI] indicator noted that BTC was currently overbought. The asset could further retain itself over this resistance area and make it towards $26K.
Furthermore, this buying spree might have been prompted by the recent failure of the U.S. banking system.
At press time, Bitcoin's market cap value has crossed the $500 billion mark, and the momentum continues to remain in bullish territory at the moment.