Bitcoin Dips Below $20K Halting Its Hotstreak
A series of bearish news interrupted the cryptocurrency industry's solid uptrend. Bitcoin, the world's largest cryptocurrency, has been increasingly impacted over the past week. After experiencing a strong surge in 2023, the king coin suffered a severe blow and dropped below $20,000. It should be noted that the asset has not fallen to this level since mid-January.
At press time, the asset was trading for a low of $19,897 with an 8.53% daily drop. Earlier today, Bitcoin was priced at a high of $21,796.
The downfall of BTC was further attributed to an array of factors. Fear around interest rates has had a significant impact on their price. In addition, the collapse of Silvergate Bank created quite a ruckus in the market.

This wasn't all. On Wednesday, the U.S. Department of Justice [DOJ] transferred 49,000 confiscated BTCs from the Silk Road to new addresses. This further raised the possibility that the government might be interested in selling a sizeable stockpile. All of this further tested Bitcoin's prominent levels of support.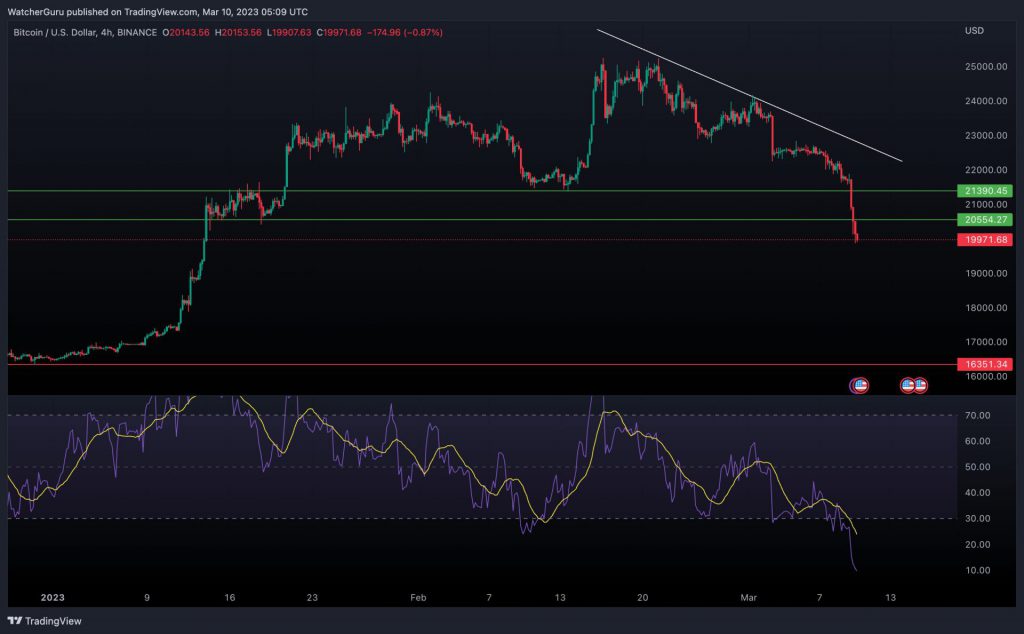 As seen in the above chart, Bitcoin broke past several levels of support, which currently act as resistance. Over the last couple of days, BTC has shattered $21,390 and eventually $20,554, which have functioned as prominent support areas. The next major support level for the king coin is $16,351.
Furthermore, sellers were swarming the Bitcoin market. The Relative Strength Index [RSI] indicator suggested that the asset was being oversold at the moment.
$119M worth of BTC liquidated in the last 24 hours
As the cryptocurrency market took a major hit, traders witnessed $307 million in liquidations. Bitcoin traders endured the most losses as $119 million of BTC was liquidated over the last 24 hours.

Additionally, according to Coinglass, traders on Binance, the largest cryptocurrency exchange in the world by trading volume, suffered losses of $104 million, the highest amount among exchanges.