Circle Joins Hands with Cross River Bank Post-Silicon Valley Bank Downfall
During the weekend, news about Silicon Valley Bank and the stablecoin issuer Circle was widely reported. There were clearly some concerns after the bank was shut down, and Circle revealed that there was $3.3 billion in cash at the Silicon Valley bank.
After that, the USDC lost its peg, dropping to $0.8774. However, USDC regained its peg and was trading at $0.998 at press time. As Circle lost one of its largest and most reliable banking partners, the question was raised: Who is next? Circle didn't waste any time and jumped ahead to collaborate with a new banking partner.
Also read: With Bitcoin (BTC) Exhibiting Double-Digit Gains, Could it Cross $27K?
According to the details shared by the CEO of Circle, Jeremy Allaire, Circle's USDC operations were poised to begin today.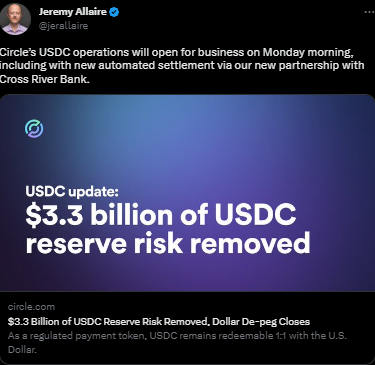 Circle reveals new banking partner, Cross River Bank
According to the details in the tweet, the New Jersey-headquartered Cross River Bank will be the new partner for the stablecoin issuer. The tweet also mentioned that automated settlement operations will also resume with the help of the partnership.
Also read: FED Swaps Indicate Signs of No More Interest Rate Hikes
Alongside this, the stablecoin issuer has also strengthened its relationship with the Bank of New York Mellon (BNY Mellon). The Silicon Valley Bank and USDC drama really picked up the pace over the weekend, as prices of major cryptocurrencies also fell following the events.