Mt. Gox Creditors Can Expect 137,890 Bitcoin Repayments This Month
On July 18, 2010, Mt. Gox, one of the earliest Bitcoin exchanges in the world, started automating trading. At one point in time, it represented more than 80% of all Bitcoin trades.
The company filed for bankruptcy on February 28, 2014, after realizing that the majority of its assets had been lost in a hack. Around 200,000 Bitcoin were held by the exchange when it filed for bankruptcy.
Also read: Pennsylvania is Now Home to a 100% Nuclear-Powered Bitcoin Mining Facility
According to a January statement, the creditors can likely expect the repayment to start on March 10.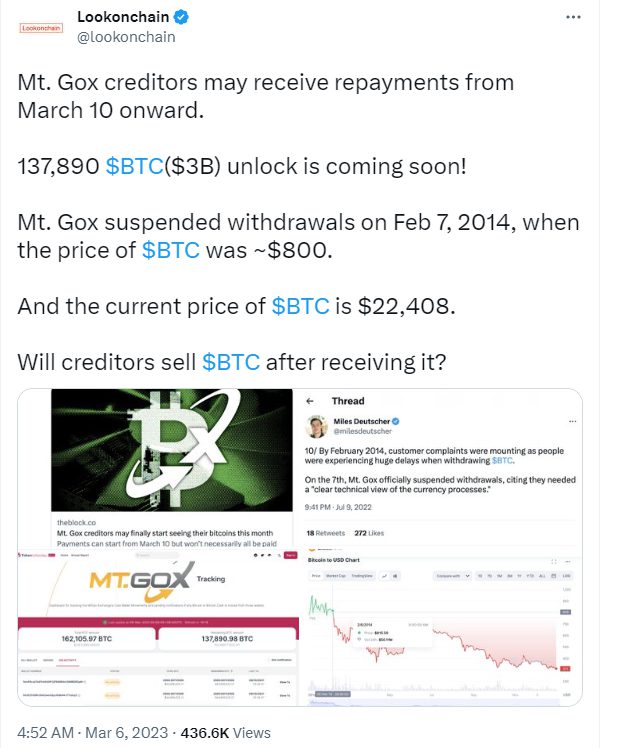 137,890 Bitcoin to be unlocked soon
137,890 BTC are set to be distributed to Mt. Gox creditors, with the deadline set for Sept 30. When Mt. Gox suspended withdrawals in February 2014, the price of BTC was around $800. Now, the price of Bitcoin is $22,508 at press time. Since the bankruptcy, the value of these has multiplied tenfold. It suggests that debtors might be able to get back more money than they did during the bankruptcy.
Also read: Amazon is Reportedly Planning to Launch its NFT Marketplace Next Month
The creditors are likely to receive payments in BTC, Bitcoin Cash, and fiat. The distribution has been a much-awaited event, and the creditors will be able to finally get back their lost BTC once the distribution begins.