Shiba Inu Burn Rate Spikes by 240%, Price Remains Stable
The Shiba Inu Burn initiative has been one of the most significant developments in the meme coin realm. With over 549,063,278,876,302 SHIB in circulation, the overall goal is to restrict supply, create scarcity, and ultimately force a price increase.
Positively, February started out with respectable burn figures. Shiba Inu burn rate jumped by 10,000% this month as well. The burn rate, like its price, is nevertheless well known for its volatility. The burn rate also spiked by 2300% on Feb 27.
Also read: Mt. Gox Creditors Can Expect 137,890 Bitcoin Repayments This Month
However, the burn rate was not that exceptional in March. The burn rate even touched zero on March 1, 2023. Nevertheless, the burn rate has gained momentum, as it has spiked by 240% in the last 24 hours.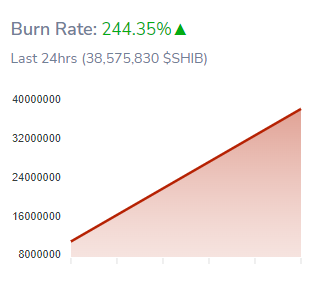 Over 38.5 million SHIB were sent to dead wallets during this period. One notable transaction worth 22 million SHIB happened four hours ago at press time.
Shiba Inu price remains stable
According to CoinMarketCap data, Shiba Inu is trading at $0.00001121 at press time with no major volatility in the last 24 hours. However, the meme coin is down 9.8% in the last seven days and 26% in the last 14 days.
Also read: Amazon is Reportedly Planning to Launch its NFT Marketplace Next Month

However, after the launch of Shibarium, the price is expected to spike considerably. Shibarium has also been one of the most-anticipated launches by the Shiba Inu team and was trending on Twitter today as well.