Tron's Justin Sun Labels SEC's Framework for Crypto Nascent
The United States Securities and Exchange Commission [SEC] has intensified its scrutiny of the cryptocurrency ecosystem. A large number of assets were found to be abruptly classified as "securities" by the SEC. This was typically followed by a lawsuit against the developers of that particular asset. As Ripple has been fighting a battle against the SEC, Tron's Justin Sun might have to put up a fight of his own.
Earlier today, the SEC went on to sue Sun for selling unregistered securities and fraud as well as market manipulation. Before taking the legal route, Justin Sun decided to calm crypto Twitter. The founder of the Tron ecosystem took to Twitter and called out the SEC's latest move. He outrightly suggested that the regulator's complaint was short of "merit."
Additionally, Sun suggested that the SEC's current regulatory framework is still in its infancy. Time and again, the U.S. government and its stance on the crypto-verse has been contested. The lack of clarity among regulators has constantly taken a toll on investors. Amidst this, the SEC continues to take shots at firms in the digital asset space. Sun further added,
"It is no secret that the SEC's regulatory framework for digital assets is still in its infancy and is in need of further development."
Sun also stressed how Dominica had recently adopted TRX. He brought this up while stating how Tron has been "eager to collaborate with governments and regulatory bodies."
Tron's TRX dips by nearly 9%
Sadly, the entire market is currently in a slump. However, Tron's TRX was recording the highest fall. At press time, TRX was trading for $0.06156 with an 8.45% daily drop.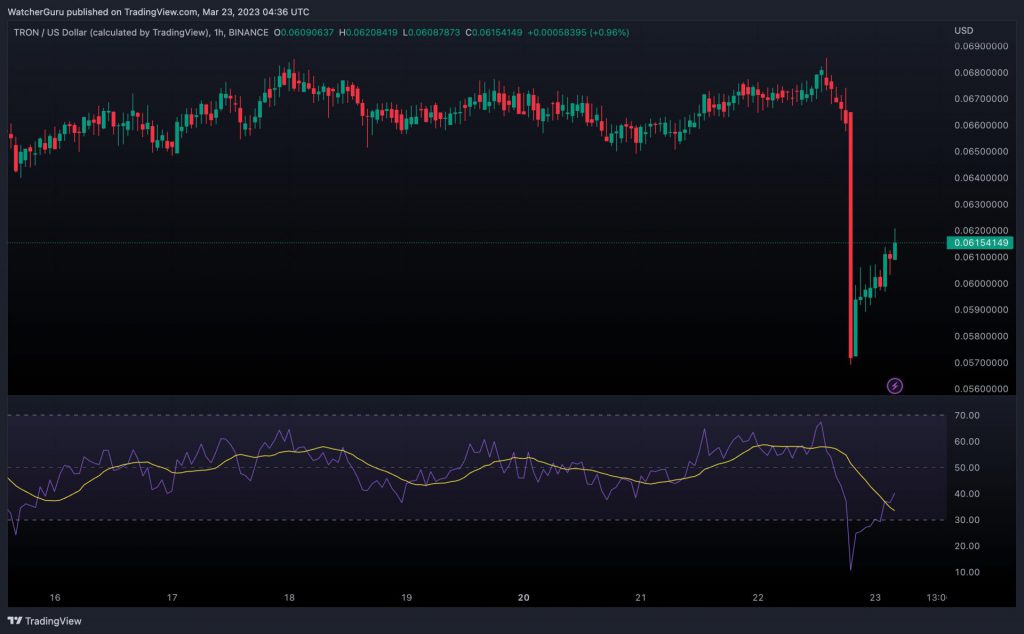 As seen in the above chart, TRX witnessed a major drop after the SEC's news came to light. The Relative Strength Index [RSI] pointed out that the asset was being oversold. This increased selling spree might have pushed Tron's native asset downwards.