Bitcoin Surpasses $30,000, 10 Months After Falling Under
Bitcoin has finally breached the psychological $30,000 level. This feat has been achieved by the king-crypto for the first time since June 2022. BTC has recaptured the price range after 10 months.
As depicted in the chart below, Bitcoin has completed a parabolic recovery. It registered a local bottom at $15,470 in November 2022. Since then, there have been gradual inclines coupled with brief consolidations.
The momentum flip at the beginning of this year, eased things further for BTC. In fact, investors fetched a modest 71.77% return throughout Q1 2023. Bitcoin had been trading above all its crucial EMAs since mid-March. That set the tone for it to break above $30,000.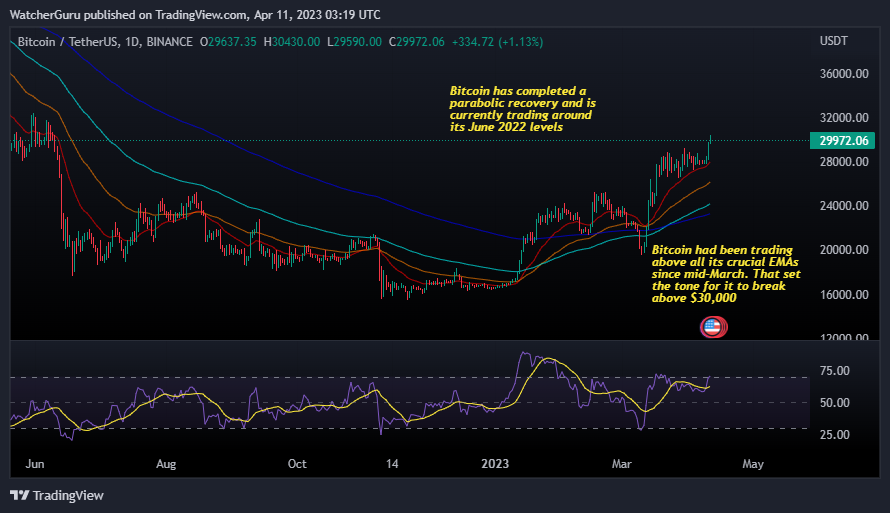 At this juncture, it is worth noting that Q2 has proven to be investor-friendly for Bitcoin holders. In fact, as analyzed in an article recently, BTC has fetched triple-digit returns during this quarter on a couple of instances. As a result, analysts and community members remain bullish and expect a broader recovery in this quarter.
Also Read – Bitcoin: What To Expect From Q2 2023?
Bitcoin dominance
Bitcoin's dominance has also noted a swift incline lately. After horizontally consolidating for 2 weeks, its dominance managed to surpass 48.53%, post the price break-out today. In fact, the aforementioned level is slightly higher than in June 2022. As shown below, the current BTC.D is almost at par with July 2021 levels.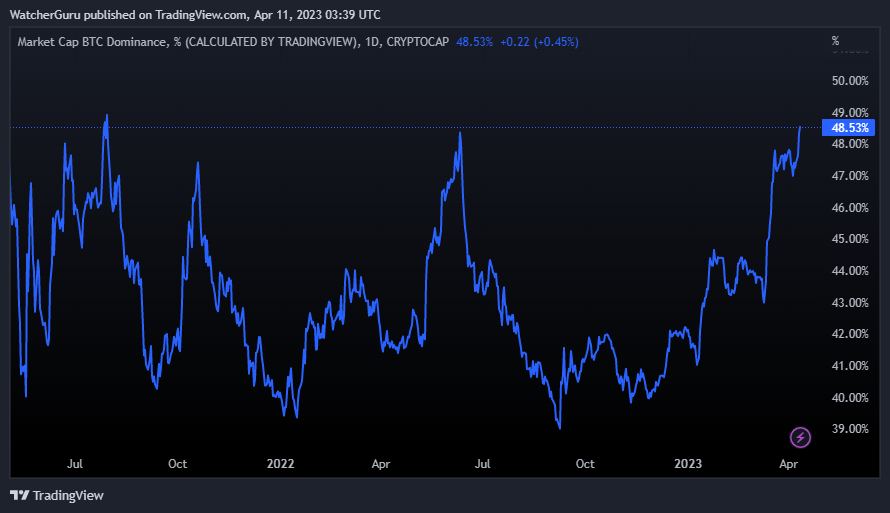 Also Read: Bitcoin Whitepaper is 'Hidden' on Every Apple MacBook with Recent Versions of macOS
Right from smart money flowing into Bitcoin and traders longing the asset, to retail participants accumulating, there are a host of positive signs across the board. In fact, the number of addresses holding more than 0.1 BTC has been inching higher with every passing day. Interestingly, they just claimed a new all-time high of 4.3 million. Parallelly, the number of 1+ coin holders has also risen to claim a new peak of 994,030.
Also Read: With Shiba Inu at $0.00001, Traders & Investors Exit Market