China's Yuan Will Likely Displace U.S. Dollar as the Number One Currency: Trump
Former U.S. President Donald Trump has been expressing his concern about the state of the U.S. dollar for quite some time now. A few hours back, he said that China's yuan will likely end up displacing the U.S. dollar as the number one currency in the world.
Trump took his Truth Social account to voice out the same and said that the aforementioned case was "unthinkable" three years ago. In fact, he went on to state that such a scenario will "probably" pan out in Biden's regime.
Trump further went on to add that the dollar displacement will be the "biggest defeat" for America in its history. In retrospect, the country's status will drop down to the second tier, according to Trump.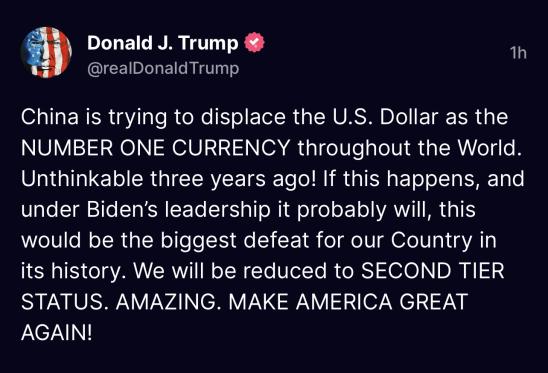 Also Read: Donald Trump Blames President Biden for Bank Failures, Economic Catastrophe
Dollar's woes
Concerned about the unstable state of the U.S. dollar, three congressmen recently introduced a "Gold Standard" bill to facilitate the re-pegging of the currency to a fixed weight of gold bullion. According to Representative Alex Mooney, the gold standard will protect against Washington's "irresponsible spending habits" and the "creation of money out of thin air." That, in turn, will help the U.S. dollar regain a stronger hold.
There have been several reasons why the apex currency has been weakening of late. The slump in U.S. manufacturing activity last month brought to light the shriveling state of the economy. That, coupled with renewed inflationary concerns stemming from OPEC's surprise output cut, other macro-economic issues and geo-political tensions have added more burden on the shoulders of the greenback.
In fact, just a day back, Trump asserted that the dollar will no longer be the world standard owing to its crash. He went on to assert, that the same could end up being America's greatest defeat in 200 years.
Also Read: Dollar is Crashing and Will No Longer Be the World Standard: Trump