Dogecoin, Shiba Inu Fail to Follow Bitcoin's Bullish Rally: Heres' Why
After months of waiting and speculating, Bitcoin [BTC] finally made it past $30K. As the entire crypto community celebrated this milestone, the rest of the assets in the market followed suit. As Ethereum [ETH] inched closer to $2K, Solana [SOL] rose by 9.74%. Sadly, meme coins like Dogecoin [DOGE] & Shiba Inu [SHIB] weren't doing as well as expected.
Meme coins have managed to grab the attention of the entire world. Both Dogecoin and Shiba Inu are undoubtedly among the most popular crypto assets out there. However, unlike the others, both these coins pocketed limited gains over the last trading session.
Dogecoin was trading for $0.08474 with a dainty surge of 2.17% over the last 24 hours. Shiba Inu, on the other hand, was sailing on the same boat, with only a 2.29% increase. Furthermore, SHIB was priced at $0.00001115.
The reason behind this has a lot to do with the nature of the rally. As seen over the last couple of days, Dogecoin spiked right after Elon Musk changed the Twitter logo. This bullish notion, however, lasted a day. Therefore, it is safe to infer that most meme coin rallies aren't organic and rather based on hype.
Another factor is the correlation of these assets with Bitcoin. For instance, the correlation between BTC and Dogecoin is quite low compared to the last couple of months. Due to this, DOGE's price may possibly remain untethered despite Bitcoin's latest rally.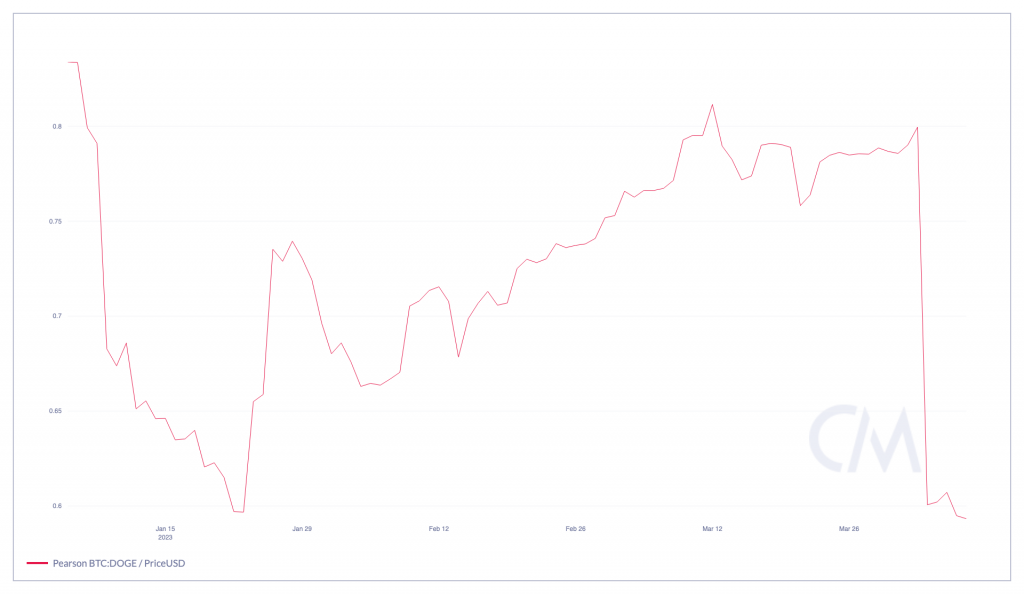 Bitcoin vs. Dogecoin
In addition to the above points, the chart noted how Bitcoin witnessed a major period of consolidation and steady growth. However, Dogecoin's abrupt surge due to the Twitter hype was squashed almost immediately.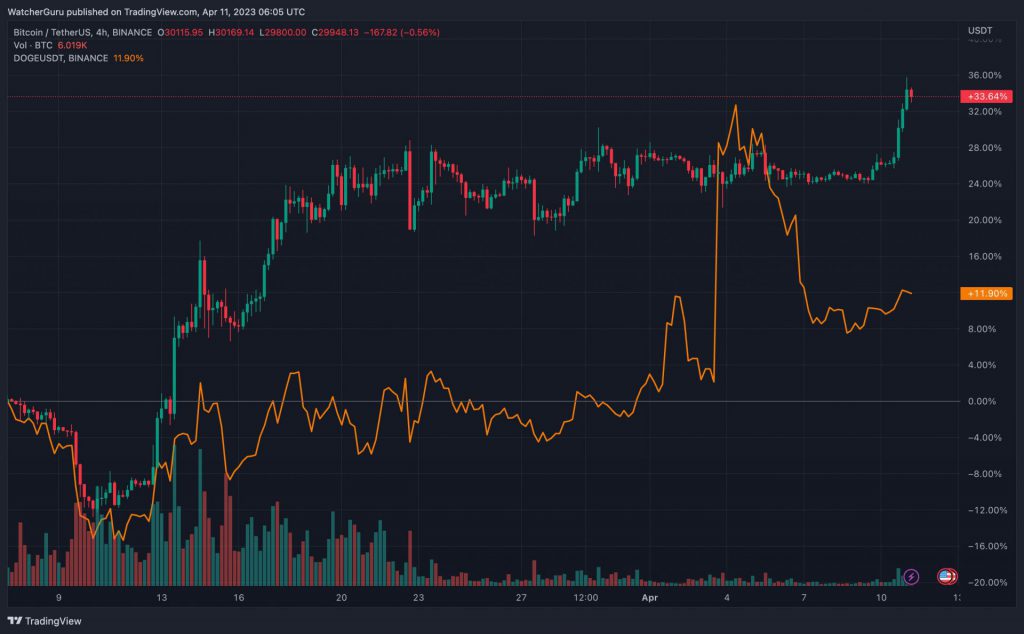 Over the last 30 days, Bitcoin has surged by a whopping 46.1% while Dogecoin was limited to 27.1%. Furthermore, the ongoing rally and Dogecoin's price movement show that the meme coin is more correlated to external factors like Musk's induced rallies or Burger King-type speculations.
Now, do these indications mean that Dogecoin will not register another bullish rally going forward? No. The asset will take part in positive rallies but its dependency on major crypto such as Bitcoin, and Ethereum will remain low. A collective bullish market is always positive, but the likes of Dogecoin, and Shiba Inu will remain receptive to other factors, as their notoriety towards crowd-inducive rallies remains dominant, rather than on-chain growth and activity.