Elon Musk Praises New Twitter 'CEO' As Company 'Breaking Even'
Twitter executive Elon Musk said on Wednesday, April 12, that his social media company is "roughly breaking even" with most of its advertisers returning. "Almost all of them have either come back or said they're coming back," Musk said. In fact, the executive also added that Twitter could become profitable as soon as the current quarter.
At press time, around 3.3 million users had tuned in to listen to Musk's live interview wit BBC on Twitter Spaces.
Musk comments on the new CEO of Twitter
Elon Musk also went on to talk about Floki Inu. He said that he isn't the CEO of Twitter anymore and his dog Floki has filled up those shoes. Musk added that people "like" the new Twitter executive. He said laughingly,
"I am not the CEO of Twitter. My dog is the CEO of Twitter. He's got a black turtleneck, what more do you need?"
Notably, a couple of months back, Elon Musk announced his new replacement by tweeting a picture of a dog named Floki. He exclaimed that the new executive is "amazing" and also went on to claim that the dog is "so much better" than him. In fact, in other subsequent tweets, Musk first mentioned that the new CEO is "great with numbers," and then appreciated his "style" as well.
Also Read: Elon Musk Announces Dogecoin's Shiba Inu Dog as the New CEO of Twitter
Right after the Floki mention during today's interview, the price of Floki Inu changed its course. The downtrend flipped to an uptrend and in just a matter of few minutes, it rose up by around 3% on its short-timeframe chart. At press time, FLOKI was trading at $0.0000337.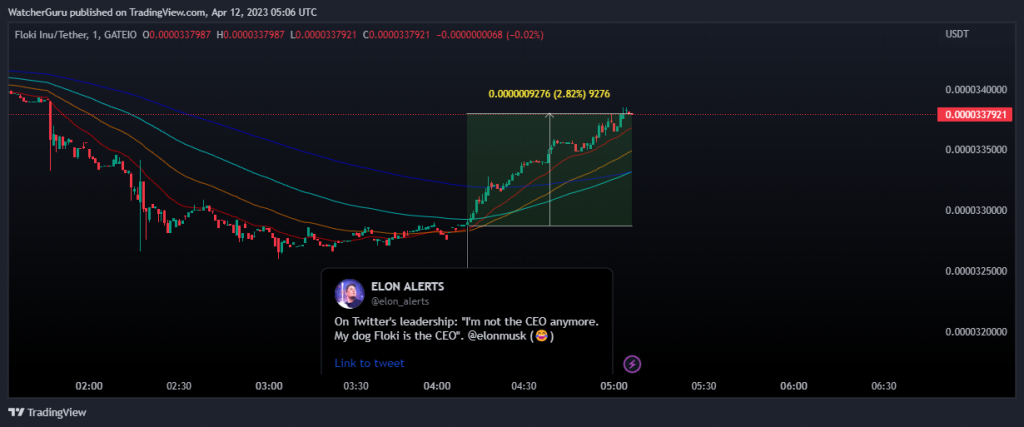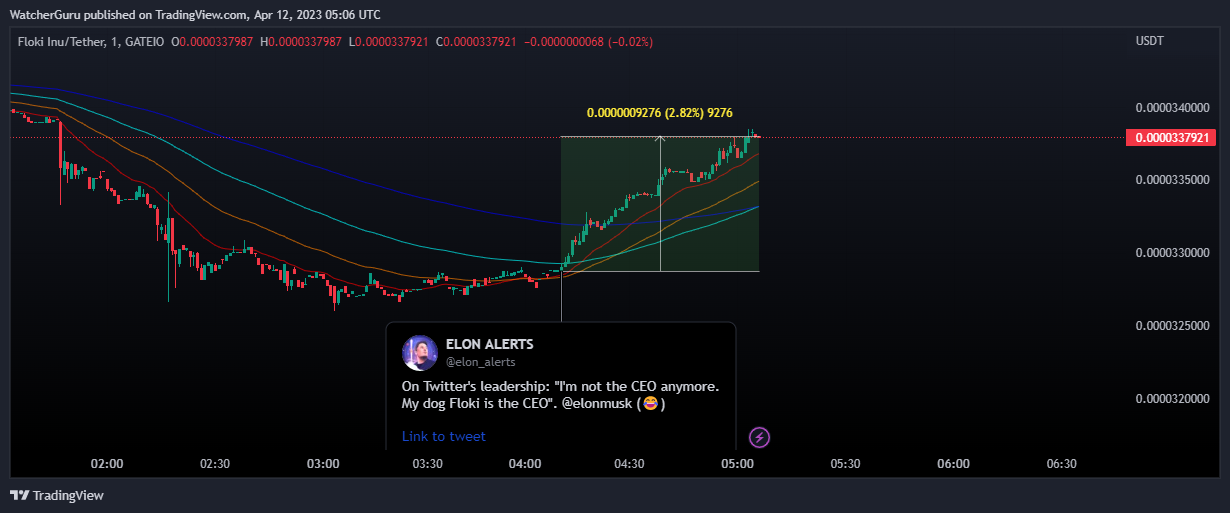 Elon Musk went on to talk about a host of other subjects. One of the many things he revealed was that he tried to turn a part of the Twitter headquarters into a homeless shelter, but the landlord denied it. Musk recently also opened up about the "w" cover-up on the Twitter signboard at the company's San Francisco headquarters. He said that it was done to please the landlord and abide by the legal requirements.