Elon Musk's Twitter Updates its Logo to Dogecoin, DOGE Price Spikes
Dogecoin has paved the path for the current growth of the meme coin realm. But, Dogecoin really took off when Tesla CEO Elon Musk began embracing the crypto and began tweeting about it. Since then, the price of DOGE has risen with each positive tweet from Musk.
Dogecoin rallied over 100% after the acquisition of Twitter, with people hoping that Musk would integrate it into Twitter. Musk has also not been quite as vocal about his plans to integrate Dogecoin into Twitter after the acquisition.
Also read: Shiba Inu Burner Teases New Web3 Marketplace and Wallet for SHIB Enthusiasts
However, all that has changed as Twitter has changed its logo to Dogecoin. Following this, the price of DOGE has also shot up.
Twitter's blue bird logo replaced by Dogecoin
In one of the most recent updates to Twitter, the social media behemoth has updated its blue bird logo with the Dogecoin image. It is unclear at the moment whether this is a permanent change to the Twitter logo. It could potentially also be Musk reminding the DOGE community that he hasn't forgotten about the meme coin.
Following this change, the price of Dogecoin has shot up by 22.56%. DOGE is trading at $0.9796 at press time, with signs that the coin is moving in an upward trajectory. The market cap of DOGE has also gone up by 22.5%, according to CoinMarketCap data.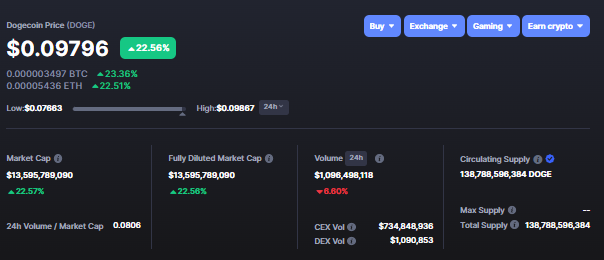 If the newly updated logo is not visible to any users, they can just go into private or incognito mode to see the updated Dogecoin logo.