If You Invested $1,000 in Babydoge in 2021, How Much Would You Have Made?
Baby Doge Coin (BABYDOGE) is another popular dog-themed crypto project, apart from Dogecoin (DOGE) and Shiba Inu (SHIB). The popular memecoin is rallying along with the larger crypto market, with 13.8% gains in the last 24 hours.
BABYDOGE made its debut in June of 2021. If an investor had put $1000 into the asset at the time of launch, they would have received about 10.5 trillion tokens. Today, the value of the tokens would be worth about $29,228. The figure represents a 2822.8 % increase in returns.
Although an investor would not have become a millionaire, the return sure is very attractive. However, with that being said…
How much BABYDOGE in 2021 would make you a millionaire today?
A million dollars in the popular dog coin crypto means around 361 trillion tokens. The price of 361 trillion tokens in June 2021 was about $34,213. Therefore, if an investor had put $34.2k into the dog coin, they would have been a millionaire by now.
Baby Doge Coin has seen a lot of growth over its short two years of existence. The project has announced that a "top-5" exchange will be listing the asset next week. Although the team has not revealed the name of the exchange, the listing might help drive more traffic into the popular memecoin. However, there are rumors that the exchange in question is none other than Binance, the world's largest crypto exchange by volume. However, there is no confirmation behind this rumor.
BABYDOGE currently faces resistance at $ $0.0000000002932, with support being formed at $0.0000000002654. If current resistance levels are broken, the asset may see fresh resistance at $0.0000000003281, a level last tested in late-February 2023.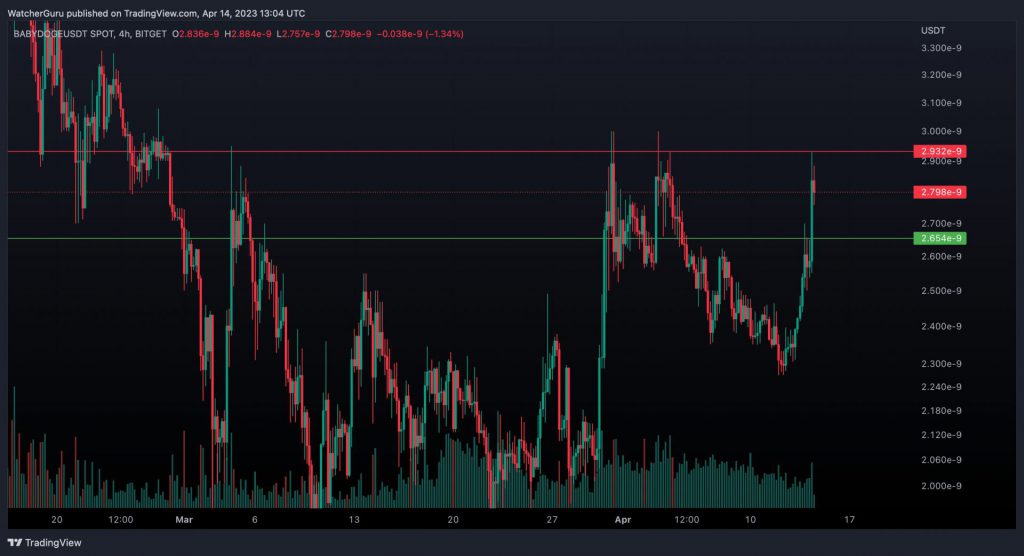 At press time, the token was trading at $0.000000002770, up by 12.6% in the last week. Moreover, the token is up by 8.4% in the last year. However, BABYDOGE is still down by 56.35% from its all-time high of $0.000000006345, attained in January 2022.