Is Bitcoin Looking to React Again on April 27?
Bitcoin [BTC], the world's largest cryptocurrency started 2023 on a great note. The king coin led a rally that the entire ecosystem benefited from. While several naysayers declared BTC dead multiple times in 2022, the asset jumped beyond $30K. This hot streak was recently interrupted and the asset was back at $27K. Is this a minor correction or is it a downtrend in the making?
At press time, Bitcoin was trading at $27,397.34 with a 0.52% daily drop. But there are several aspects that would push the king coin above the $30K zone.
Will Bitcoin gain from this week's macro conditions?
The macro catalysts this week are limited to Personal Consumption Expenditures [PCE], GDP as well as jobless claims which are expected to come out on April 27. However, this could further impact the Fed interest rate hike along with the Federal Open Market Committee [FOMC].
But according to CME Group's FedWatch Tool, the majority now favors yet another rate rise, putting more pressure on American banks and the larger financial system. Currently, 90% of the time, another 0.25% increase will occur.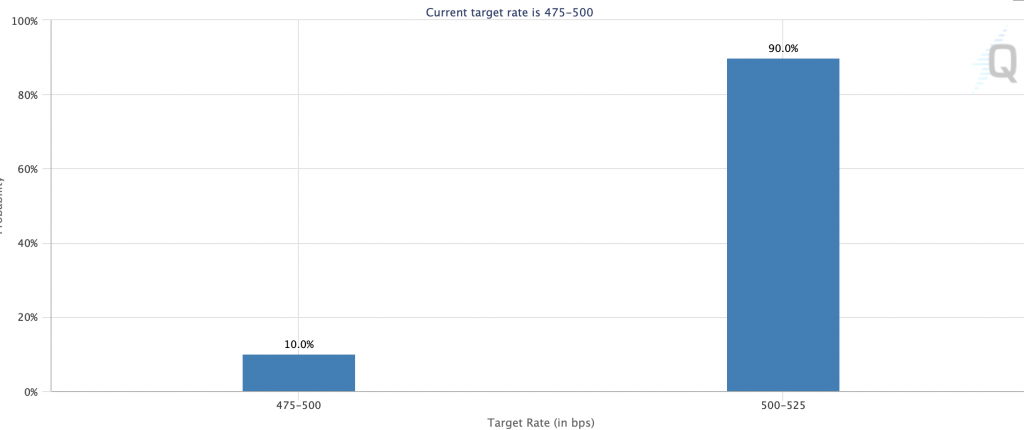 Speaking about the potential hike in interest rates, investor Crypto Awakenings said,
"A pause announcement by Powell can trigger a break above $30k for Bitcoin. If a hike is announced, it's likely already priced in by the market and confirms a 'sell in May and go away' won't happen in 2023. The pause may happen in May or July, with May being more probable."
However, it should be noted that this is quite uncertain considering the possible fluctuations.
Bullish prediction flow in for Bitcoin
The notion around Bitcoin was finally changing. It looks like the globe was shifting toward a more bullish side. Standard Chartered suggested that the "crypto winter" was officially over. In addition to this, Standard Chartered's head of digital assets research, Geoff Kendrick wrote in a note,
"While sources of uncertainty remain, we think the pathway to the USD 100,000 level is becoming clearer."
BTC is currently mirroring the 2019 movement
Vetle Lunde, a crypto markets researcher at K33 Research, pointed out similarities between the current rise of BTC from 2022 and its price trajectory from 2018 into 2019.
Last week, Lunde predicted that Bitcoin will hit $45,000 in a research letter to clients. BTC is presently up almost 80% in 2023, despite its latest dip. He believes that "the current drawdown and recovery stage is remarkably similar to that in 2019, both in duration and price movement." He further added,
"We saw throughout the latter part of 2022 a lot of forced selling, and also selling from investors who grew cautious. This has led people to be underexposed. And has also enticed a lot of people to short [crypto] being conservative with adding exposure. This creates this dynamic where bitcoin feeds on your short squeezes and moves higher."
BTC/USDT – Price Analysis
The world's largest cryptocurrency currently has a lot of sellers in its market. However, an indicator brought about hope in the BTC market.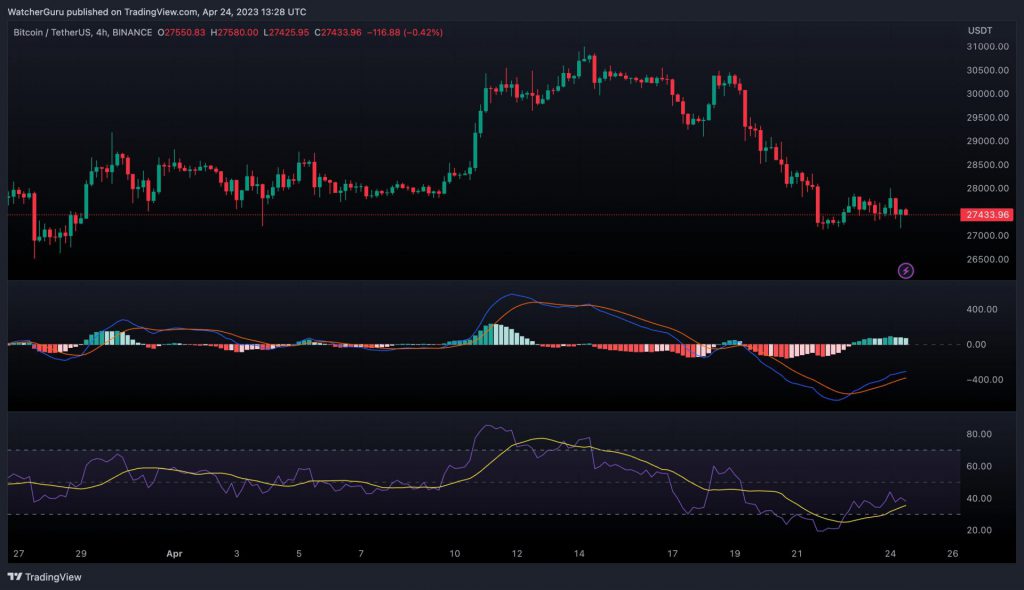 The MACD indicator used in the four-hour price chart of BTC was positive for the network. The MACD line was over the signal line forming a bullish crossover. The Relative Strength Index [RSI] indicator revealed that BTC recently recovered from the oversold zone.
Despite this, since BTC is impacted by macro factors, the upcoming events could act as a catalyst for the asset's rise or fall.