Shiba Inu Burn Rate Fails to Maintain Stability, Burn Rate Drops
The Shiba Inu Burn initiative has been one of the most significant developments in the meme coin realm. With over 589,543,507,245,065 SHIB in circulation, the overall goal is to restrict supply, create scarcity, and ultimately aim for a price increase.
Shiba Inu has emerged as one of the most prominent cryptocurrencies since its inception. The burn initiative has often been criticized for its volatile nature. The burn rate has been quite slow in the past few days, failing to gain momentum.
Also read: US Treasury Says Decentralized Crypto Markets Threaten National Security
According to Shibburn data, the burn rate has dropped by 11.88% in the last 24 hours, with only 16,737,294 SHIB sent to dead wallets.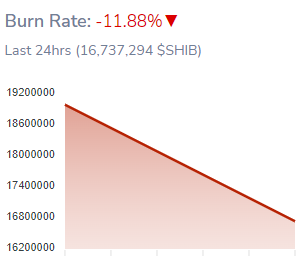 Only 16.7 million SHIB sent to dead wallets
The exact reason for the drop in burn rate over the past few days is unclear at the moment. In the last 24 hours, only five transactions were involved in the burn process. One transaction that happened 16 hours ago sent only 1 SHIB to the dead wallet.
From the days of burning millions and billions of SHIB, the burn rate has dropped considerably. The price of SHIB has also been holding up with no major fluctuations. At press time, Shiba Inu is trading at $0.00001112 with no major volatility in the last 24 hours.