VC Funding For the Cryptocurrency Sector Fell 80% in Q1 2023
According to a report by Galaxy Research, venture capital (VC) investments into cryptocurrency firms continued to fall in Q1 of 2023. As per the report, $2.4 billion worth of VC funding was made in Q1 2023. The figure is the lowest reported amount since Q4 2020.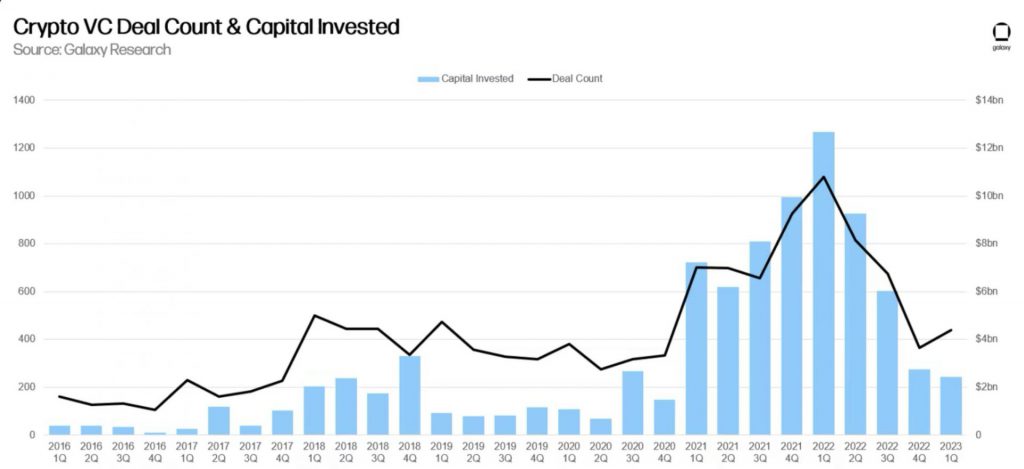 VC funding into cryptocurrency firms peaked in Q1 2022 at $13 billion. The figure has been steadily falling since then. The current number represents an 80% decline since the 2022 peak. However, the $2.4 billion sum may be amended in the future. This is because data on venture deals are frequently released at a later period.
As per the report, companies working in the Web3, NFTs, DAOs, Metaverse, and Gaming sector, bagged the most number of deals, at 116. However, companies dealing with trading, exchange, investing, and lending, raised more capital, at $538 million.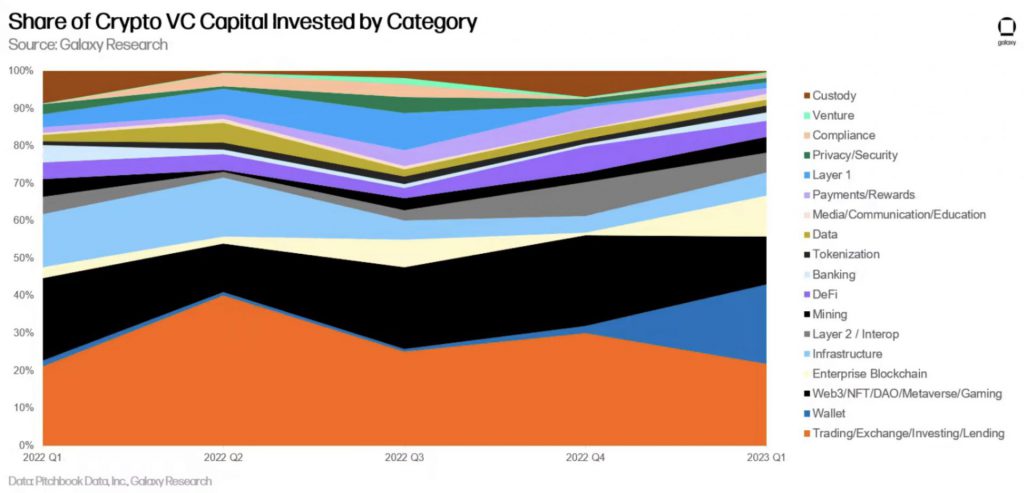 The report also noted that American firms pulled in a majority of the funding (42.8%). The majority of venture capital activity still originated in the United States. The crypto ecosystem is dominated by US-based businesses, and authorities are working to retain top personnel, advance financial and technological modernization, and extend American leadership into the future economy.
Why did VC funding in cryptocurrency firms decrease?
Although the amount of capital invested decreased in Q1 2023, the number of deals, on the other hand, increased by 20%.
It is possible that there is a correlation between cryptocurrency prices and VC funding. With the markets taking a hit during 2022, VC firms may have taken a more cautious approach. Firms may have decided to fund more capital, but bringing down the amount invested. With many crypto firms biting the dust in 2022, investment firms are likely more careful than ever before.
Furthermore, with interest rates rising, VC firms may be less keen on investing in a risky industry. Nonetheless, with the markets picking up steam, it is possible that we may see an increase in VC funding later in the year. With Bitcoin (BTC) crossing the $30k level, and US inflation rates decreasing, the finance sector may stabilize, leading to more investments.