Bitcoin Surpasses U.S. Dollar, Yen, Franc as 'Preferred' Safe Haven Asset
The vulnerabilities linked to the U.S. dollar are now widely recognized. The BRICS nations' objective to initiate de-dollarization, along with the increasing U.S. debt default, has eroded the trust of the general public in the dollar. While gold continues to be the primary choice for investors seeking alternative investment options, Bitcoin [BTC] has emerged as one of the top three preferred assets.
With the arrival of multiple new crypto assets, Bitcoin [BTC] was being sidelined. Nevertheless, a recent Bloomberg survey emphasizes that Bitcoin remains a favored choice among investors who view it as a superior safe haven asset compared to the U.S. dollar, the Japanese yen, and the Swiss franc.
According to the report, 51.7% of professional investors and 45.7% of retail investors show a higher inclination to purchase gold. Additionally, 14% of professional investors and 15.1% of retail investors express a greater willingness to buy government bonds. About 7.8% of professional investors and 11.3% of retail investors are more keen on purchasing Bitcoin.
Number of Bitcoin addresses holding 1 BTC or more surpasses the one million milestone
The market sentiment appeared to have influenced the on-chain metrics of Bitcoin as well. In a recent report, Glassnode revealed that the number of wallet addresses holding one or more BTC has reached a significant milestone of one million.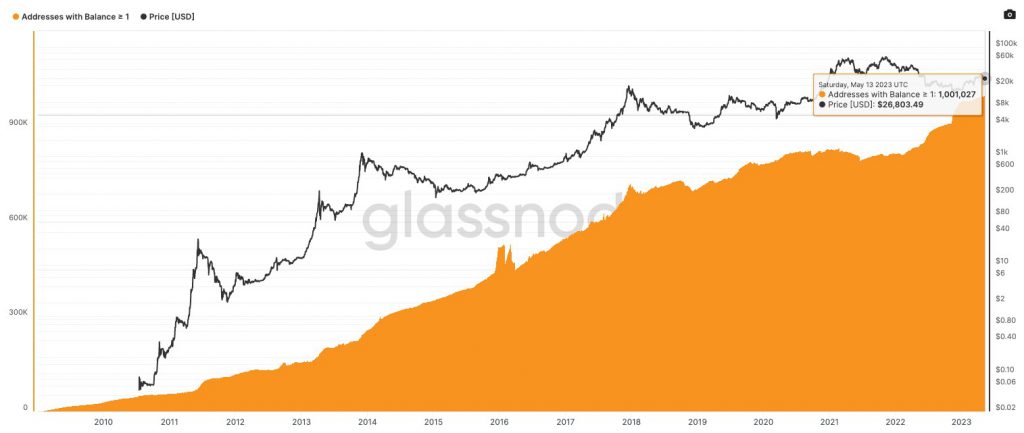 The chart above illustrated how Bitcoin managed to attract and retain holders despite the crash in 2022. Towards the end of 2022, there was an increase in the number of whole-coiners, individuals who held one whole Bitcoin or more. In addition to that, the number of addresses holding 100 Bitcoin or more has risen by 200 addresses. This significant increase took place within the past four days.
Time and again, Bitcoin has acted as a safe haven asset. However, its 2022 slump caused a lot of commotion in the financial market. The asset dipped by over 65% throughout the year. While several had been writing obituaries for the king coin, the above data indicated a resurgence of interest and renewed trust in the BTC ecosystem.
Furthermore, the price of the king coin seemed to be recovering. At press time, BTC rose to $27,280.38 from a low of $26,762.25 with a 1.64% daily surge.