Pepe Coin Enters Top 100 Coins After 2,000% Jump
A coin that has taken the industry by storm has continued its meteoric rise. Now, the viral Pepe Coin has entered the top 100 cryptos by market cap, following a jump of more than 2,000%. Additionally, the meme coin saw its market cap increase from zero to more than $500 million.
The asset saw a remarkable surge of exactly 2270%, showing that it has certainly piqued the interest of traders. Moreover, Pepe Coin has seemingly presented a unique opportunity for investors in the meme coin on the market. An opportunity that many are clearly heeding.
Pepe Coin is Now a Top 100 Crypto

Pepe Coin, something that many would not have expected, has entered the top 100 cryptos following its massive jump. Additionally, in the span of just 15 days, the asset has seen its market capitalization increase from nothing to $540 million.
CoinGecko reports that the asset has already seen a 110% overnight gain. Moreover, it is now observed as the third-largest meme coin on the planet by market cap. Conversely, it has joined the ranks of Dogeconi (DOGE) and Shiba Inu (SHIB) as some of the most popular and in-demand meme coins the market has to offer.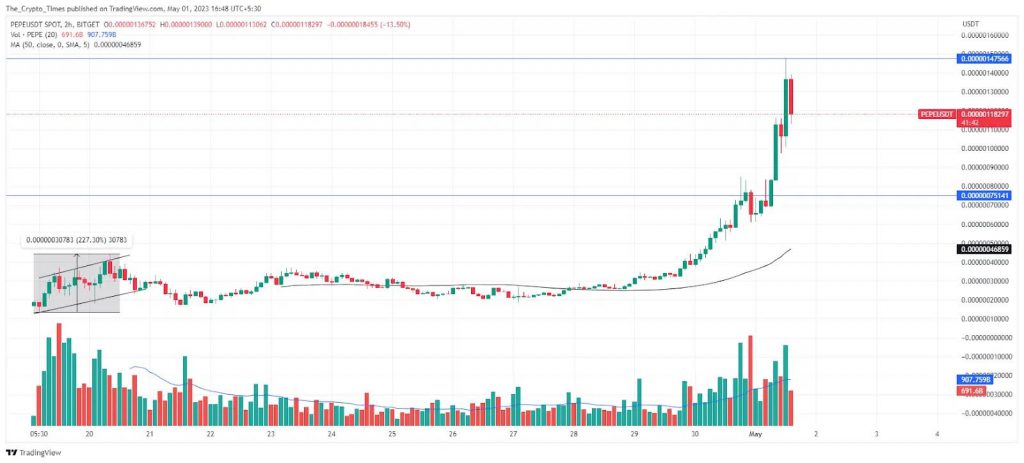 Although the feats it achieved are undoubtedly impressive, the question is whether or not the rise can be continued. Currently, the trading volume has seen an increase of 200%. Additionally, the price of the asset stands at $0.00000125, with an increase of 75% in 24 hours. Subsequently, the hourly chart has indicated bullish sentiments, as many celebrate the monthly high of the cryptocurrency.
Yet, what is more indicative of its rising popularity is that Pepe Coin has recently received a new listing on the crypto exchange OKX. Therefore, a PEP/USDT pair will be available on the exchange starting May 1st.
What has been vital to the meme coin's success is the tremendous returns that investors are facing. Specifically, statistics show tremendous profits facing those who got in early on Pepe coin. Twitter user Loopify, reported that Dimethyltryptamine.eth purchased 5.4 trillion Pep at a cost of 0.125 ETH, worth $250, on April 14th.
Now, Dimethyltryptamine.eth has sold 1.5 trillion Pepe for more than 500 ETH, while still holding 3.9 trillion meme coins. Subsequently, the total value is sitting at $4.15 million at its current price. Although there is no certainty as to where the meme coin will go, Pepe Coin has undoubtedly earned attention for its incredible rise.