PulseChain Becomes Top 10 Chain: TVL Inches To $500 Million
In the midst of the macro bearish conditions last year, the Total Value Locked [TVL] in DeFi dried up. Parallelly, the yields were also down to lows. As a result, the DeFi index price, showcasing the state of DeFi on Ethereum, also crashed. In 2023, however, the state of affairs started improving. Leaving aside the DeFi trend on Ethereum, there is no clear-cut trend with respect to the macro state of affairs.
According to Crypto.com's latest report, the DeFi market cap index was positive at +3.04% in the week extending from 10-16 May. However, the volume and volatility indices were negative at -10.58% and -29.99%, respectively.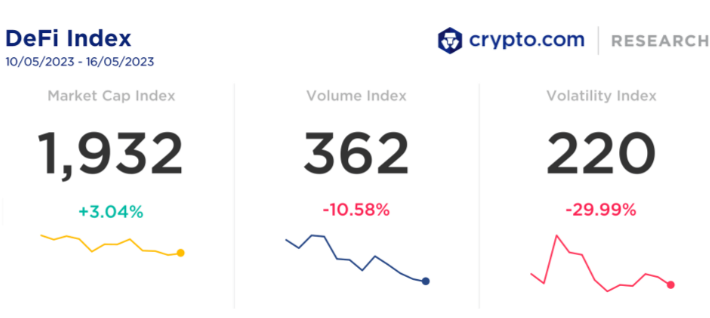 Also Read: 2010's $41 Bitcoin Pizzas Are Worth $267 Million Today
PulseChain Thrives
On the TVL front, most protocols had noted a minor influx on the weekly front. However, on the daily, 8/10 of them flashed red figures. PulseChain was one of the two exceptions. With just a single protocol, PulseX on board, PulseChain managed to witness a 37.52% increase in the number of funds locked on its platform. At press time, the TVL reflected a value of around $462.58 million.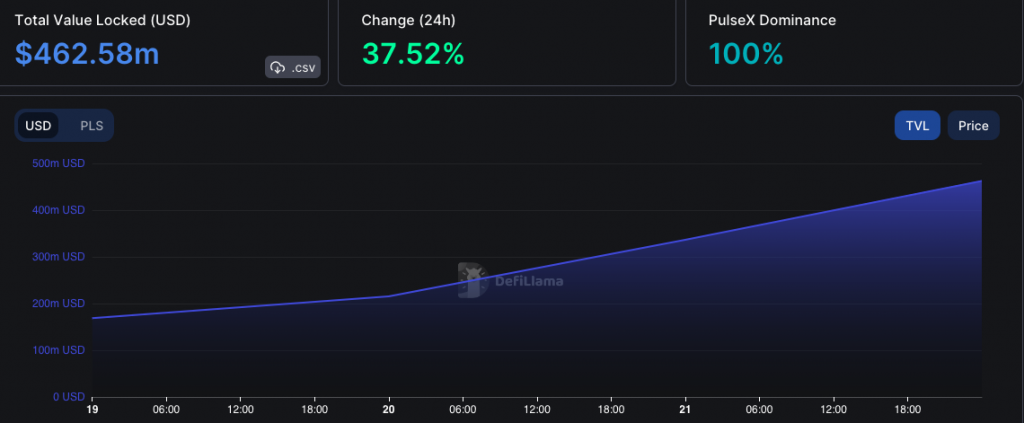 Also Read: PulseChain Mainnet and PulseX Goes Live
Here, it is worth recalling that the PulseChain blockchain and its native DeFi swap PulseX went live on Saturday, May 13, 2023. The native swap application PulseX allows users to exchange tokens on PulseChain for one another. So, in less than 10 days of its launch, PulseChain has been able to claim a spot in the top 10.
Richard Heart recently took to Twitter to bring to light the rising interest over time pertaining to PulseChain. As depicted below, the same has noted a steep incline of late, bringing to light the strong community interest.
On other protocols, like Ethereum, BSC, Arbitrum, Polygon, Avalanche, and Cronos, the TVL dropped from 0.48%-2%. Tron was the only exception along with PulseChain that managed to puncture the gloom and register a green figure. According to DeFiLlama's numbers, the value of funds locked on Tron noted a 2% incline and reflected a value of $5.5 billion at press time.
Also Read: Dogecoin, Litecoin Transactions 'Spike' After Ordinals Intervene