Shiba Inu, Bitcoin, PEPE Are May's Most 'Social' Cryptocurrencies
The crypto-verse witnessed the arrival of a multitude of crypto assets over this past month. Pepe Coin [PEPE] took on the market in terms of price, network activity, and social volumes. This further had the community wondering if a newly introduced coin would soon become more popular than the existing ones. However, despite PEPE's advent and soaring interest, Bitcoin [BTC] dominated the space in terms of social engagement in May.
A recent chart by LunarCrush indicated that Bitcoin and Ethereum [ETH], the largest two cryptocurrencies were the most discussed assets on social media. Bitcoin's rise in popularity along with other things was attributed to the emergence of BRC-20 tokens.
PEPE was also part of the top five as it took on third place. The asset was trading for $0.00000143, at press time, with a 30-day rise of 176%. Meme coins have been under the crypto spotlight for quite some time. However now, assets like Dogecoin [DOGE] and Shiba Inu [SHIB] were making way for PEPE. DOGE took on the fourth spot while Shiba Inu was ranked sixth.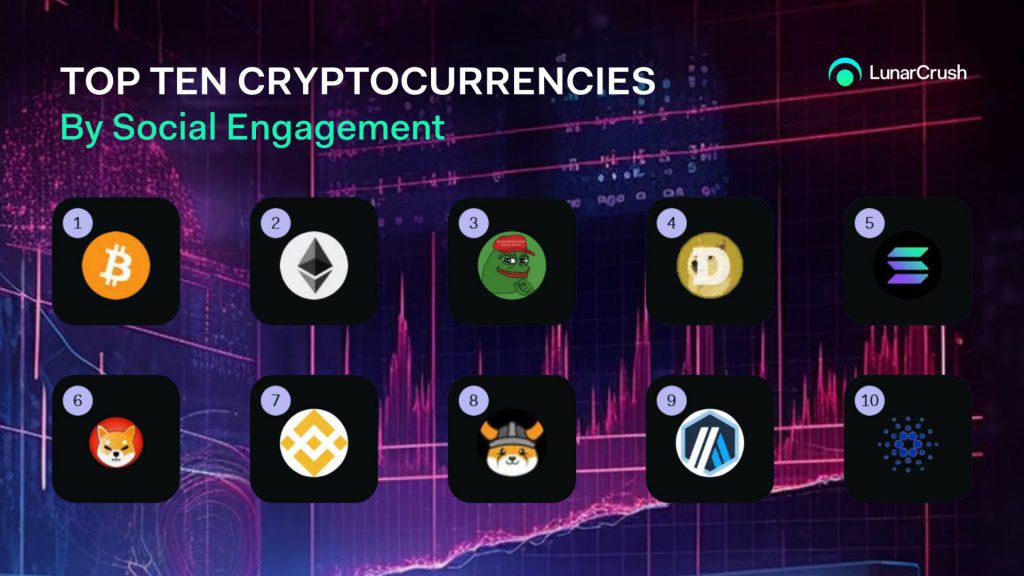 Another meme coin, FLOKI, was also included in the list, indicating its growing adoption in the past month. Consequently, FLOKI experienced a notable increase in social engagements, reflecting the heightened interest and discussions surrounding cryptocurrency.
Will the Shib Army help Shiba Inu reclaim its social dominance?
The Shiba Inu community has time and again demonstrated its unwavering loyalty, contributing to increased engagement in the project over time. Now, with Shibarium on the cards and the distribution of 5,000 Shiba Inu cold wallets have the potential to propel the asset towards reclaiming its leading position.
In recent weeks, there has been considerable buzz surrounding Shiba Inu cold wallets. Tangem, a hardware wallet manufacturer based in Switzerland, has recently announced that the delivery of their initial batch of 5,000 SHIB cold wallets will take place in July. The dedicated platform is already operational, allowing users to place pre-orders for the wallets.
Tangem X $SHIB

Pre-orders of 5000 wallets. Deliveries start early July, 2023.

Live on https://t.co/vL5O4TFI7Z

WOOF! pic.twitter.com/dZ3FITt2F6

— Tangem (@Tangem) May 29, 2023
Those interested in employing this feature need to visit the platform and begin the pre-order process. The price of each Shiba Inu cold wallet, which includes a set of three cards, is $77.70, excluding shipping charges. Users have the flexibility to make payments using either cryptocurrencies or traditional fiat currencies.
This new addition to the Shiba Inu market is expected to generate increased interest in the meme coin. This development has the potential to not only enhance the social engagement around SHIB but also contribute to a potential rise in its price.