Shiba Inu: AI Predicts SHIB Price For June 30 2023
The recent upward movement of the Shiba Inu [SHIB] network has garnered significant attention. This meme coin has faced numerous complaints in recent months due to its price stagnation. However, the recent surge in value has provided relief to many investors. Now, the crucial question remains: Will SHIB sustain its current upward trend throughout the month of June?
At press time, SHIB is trading at $0.000007827, reflecting a slight decline of 0.38% in its daily price. Nevertheless, the asset has experienced a notable surge of 17.62% in the past week. This positive momentum appears to be sustainable, as indicated by a machine learning algorithm's forecast.
According to PricePredictions, an analytics and forecast platform, their machine learning algorithm has predicted that the price of Shiba Inu on June 30, 2023, will be $0.000008327. If these projections prove to be accurate, it would result in a slight price increase from the current price level of SHIB.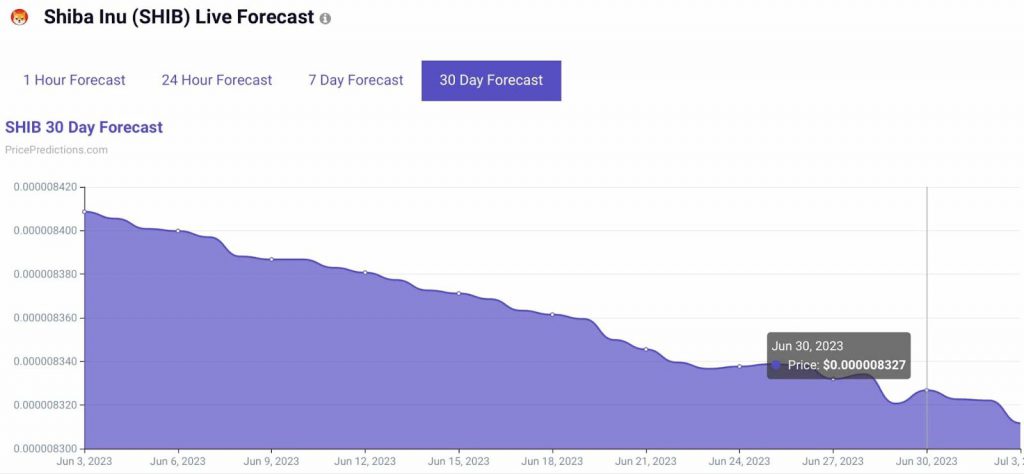 The prediction is derived from various technical indicators. This includes moving average convergence divergence [MACD], average true range [ATR], and Bollinger Bands [BB], among others. These indicators are widely utilized in forecasting the future price movements of assets like Shiba Inu and others.
Whales drive Shiba Inu large transactions by 151%
The behavior of whales in the market suggested a potential upward movement. Data from IntoTheBlock revealed a significant increase in the volume of large transactions, soaring by 151.84% and reaching a notable value of $19.51 million. However, the number of active addresses experienced a decline, dropping to 5,000 with an 8.17% daily decrease.
Furthermore, the recent surge in the price of SHIB has resulted in gains for many holders. Currently, about 84% of SHIB holders are experiencing losses, which is an improvement compared to a few weeks ago when around 90% of holders were in the red. As of now, 11.65% of SHIB holders are enjoying profits.