AI Crypto Represents an Important Opportunity for Web3: Coinbase
With the advent of ChatGPT, artificial intelligence [AI] took center stage in the latter half of 2022. Right from educational institutions, to pharmaceutical companies, firms all across the board started deploying AI. Stocks associated with this sector, like Nvidia, were the biggest beneficiaries. The rising demand for AI processing chips, and other similar services put them in a fundamentally strong position.
Well, Crypto and AI is another interesting cross-over that has the scope to thrive. A recent Coinbase research report asserted that "the intersection of AI and crypto represents an important opportunity for entrepreneurs looking to build in Web3."
Also Read: AI Crypto Tokens, Bitcoin Bleed: Correlation With Nvidia Stock 'Weakens'
Growth on-track?
Evidently, the hype associated with AI has refined over the past few months. Since Q4 2022, the Crypto AI sector market cap has seen a swift incline. In fact, several AI crypto assets surged by more than 80% recently.
So, are we on the right track? Well, it does seem so. As illustrated below, the total Crypto AI sector market cap has added millions of dollars over the past few months. Even though there has been a significant retracement, it should be noted that the current levels are still quite higher than the pre-AI boom period.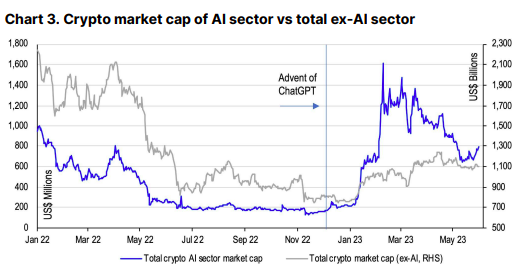 Also Read: Ethereum Founder: I Feel Bad That Solana is Getting 'Hit'
Nevertheless, it shouldn't be forgotten that crypto and AI are still in their infancy. At the moment, the market cap of crypto projects directly developing AI models on the blockchain, applying AI to decentralized applications, or solving AI-related issues is still quite low. AI tokens' are aggregately worth only $772 million. They account for 0.07% of the total crypto market cap, which is negligible. Contrarily, Bitcoin, smart contract tokens, stablecoins, currencies, DeFi tokens, scaling solution tokens, etc. account for much higher percentages.
Bottom line
Even though the number is quite insignificant for now, Coinbase expects the sector to grow. Nevertheless, ongoing hype ain't enough to make that happen overnight. AI's $772 million figure rises to around $2.85 billion if projects that have incorporated or are currently incorporating, AI in some form are included. For instance, some of the AI-related crypto projects are trying to use decentralized solutions to address issues of data accessibility and computational resourcing. The report concluded,
"We're still in the early stages of seeing how AI and blockchain technology could interact. Although we would expect this sector of the digital asset market to grow, this is more likely to happen only over the longer term."