China Inflation Eases to 0%: U.S. Dollar Rises Yuan Dips
A few hours back, China released its inflation numbers for June. The rate eased to zero, its lowest since 2021. This was coupled with a dip in the factory-gate prices. This metric fell at its fastest pace in over seven-and-a-half years in June. Specifically, the Producer Price Index fell for the ninth consecutive time, down 5.4% from 2022, marking the steepest decline since December 2015. The aforementioned numbers signify the lackluster demand in the Chinese economy. Being on the brink of deflation, in effect, could instigate policymakers to deploy more stimulus.
Also Read: $35 Billion Crypto SPAC Deals Remain 'Incomplete
Stocks, currencies, and crypto respond
Most Eastern and Asian stock indices were seen trading in red on the daily. Japan's Nikkei was down 0.6%, while South Korea's Kospi and Australia's S&P/ASX 200 registered 0.24% and 0.54% declines today, adding to their respective losing streaks. Hong Kong's Hang Seng index, on the other hand, appreciated by 0.6%. Mainland Chinese stock indices were also trading in green. The Shanghai Composite and Shenzhen Component rose by 0.22% and 0.5% respectively.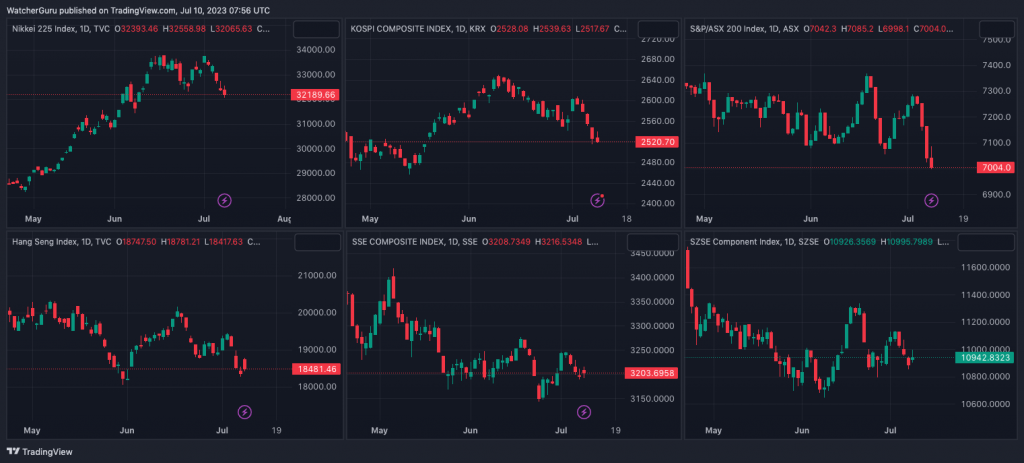 Major currencies were also quick to react. The U.S. dollar was able to put a cap on its losses. During the Asian trading hours on Monday, July 10, the dollar index was trading at 102.39, up 0.13% on the daily. Even though China's inflation numbers did rub off positively on the apex currency, there is no surety about its sustenance. With U.S. inflation data due on Wednesday, more volatility can be expected in the currency market.
Leaving aside the U.S. dollar, China's weak data pushed down the Australian and New Zealand dollars by 0.4% and 0.45%. These two currencies are typically used as liquid proxies for the Chinese yuan. As far as the Chinese yuan is concerned, a recent Reuters report pointed out,
"The offshore yuan fell about 0.1% to 7.2411 per dollar, while the onshore yuan was roughly 0.2% lower at 7.2340 per dollar."
However, the crypto market did not outrightly react to the latest data release. This asset class seemed to be the least affected, for prices remained stagnated. On the daily, Bitcoin and Ether registered mere 0.5% deviations. At press time, they were hovering around $30,100 and $1850. By issuing a crackdown, China cut ties with crypto a couple of years back. The latest data release proving to be a non-event per se indicates that even crypto has perhaps cut ties with China from its end.
Also Read: UAE Gearing Up to Become Bitcoin Mining Hub