Shiba Inu: Shibarium Testnet Sets New Record
Shiba Inu, a meme coin cryptocurrency, has seen tremendous community interaction and collaboration in a variety of projects, including the building of the Shibarium network, Puppynet.
Throughout 2022, the Shiba Inu team launched many efforts, including the Shiba Eternity game and the SHIB metaverse, building excitement for the introduction of Shibarium. However, the launch of Shibarium was delayed due to a number of challenges.
Also read: Shiba Inu Burn Rate Soars by 4467%, 654 million SHIB Burned
Lastly, on March 11, Shibarium's Puppynet was launched successfully. It has seen significant growth since then. Notably, as of June 28, Puppynet had exceeded 25 million transactions, a notable achievement for the network.
Now, according to the latest data from Puppyscan, the number of transactions has exceeded the 28 million benchmark.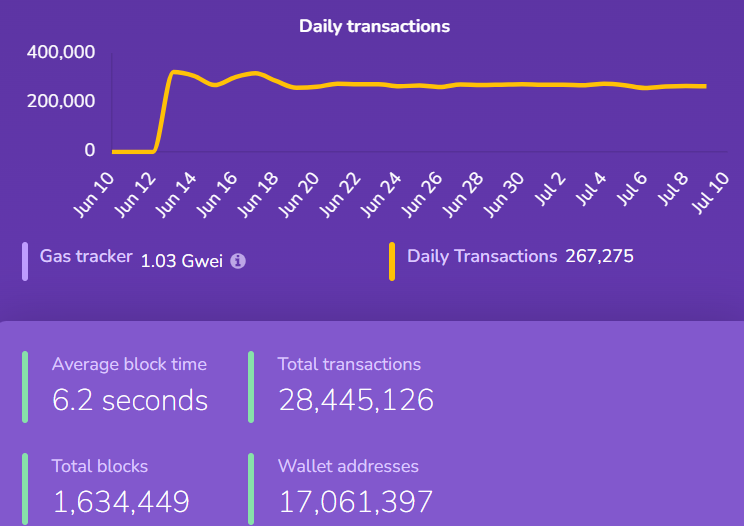 Shibarium Puppynet processes over 28,445,126 transactions
The Shiba Inu Shibarium testnet has showed impressive transaction processing capabilities since its launch on March 11, handling a total of 28,445,126 transactions to date. In addition, the network created 1,634,449 blocks with an average block duration of 6.2 seconds, showing efficient operation. Furthermore, according to Puppyscan data, the number of wallet addresses has topped 17,061,397, indicating an expanding user base.
These accomplishments on the testnet have sparked interest in the community, which is eagerly awaiting the main net's introduction. Shibarium's debut projects to be a key milestone for the Shiba Inu ecosystem, significantly increasing the burn rate of SHIB.