Shiba Inu Burn Rate Goes Parabolic, Surges 5600%
Shiba Inu, a notable meme coin and the second largest in the cryptocurrency market, has garnered significant attention. The development team has been actively engaged in initiatives like the Shiba Inu Burn, reflecting their dedication to the coin's progress.
The Shiba Inu burn rate has been subject to fluctuations, with some days witnessing higher numbers while others show a decline. However, in recent times, the burn rate has displayed relative stability, with a consistent daily burning of millions of SHIB.
Also read: Solana (SOL) Price Prediction: November 2023
According to the latest details from Shibburn, the SHIB burn rate has skyrocketed by 5600% amidst positive market conditions.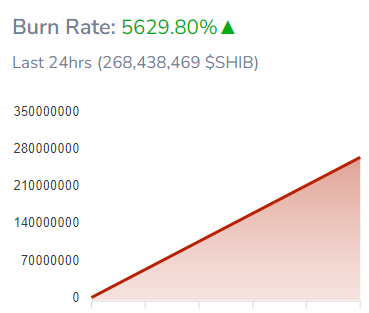 SHIB Burn rate soars by 5600%
Shibburn data shows that 268.4 million SHIB have been sent to dead wallets in the last 24 hours. One large transaction that occurred 18 hours ago sent 250 million SHIB to the dead wallet.
Also read: Chainlink (LINK) Price Prediction: November 2023
The spike in the burn rate has provided the SHIB community with relief from the slumping burn rate. The surge in burn rate comes at a time when Shiba Inu is performing better in comparison to the past few weeks.
CoinMarketCap data shows that SHIB is trading at $0.000008001, with a 2.7% surge in value over the last 24 hours.